Let's talk content and social media marketing! Here are 13 social media tips and tricks you can use today for your event!
1 – Remain present!
Ok. It's after your season and you don't have any off season shows to promote throughout the year. Problem is you STILL have a social media audience that enjoys your content. Stay vigilant throughout the year by posting and sharing things they'd enjoy. The goal…remain present!
2 – #Hastags
Are you using hashtags correctly? Are you using a mixture of broad and specific tags? For example, a broad tag would be like: #hauntedhouse. While a specific tag would be: #brightonasylum. Maybe even use a geographic specific tag like: #newjerseyevents  -or-  #texasevents
3 – Social favors proper grammar!
To-Too-Two…if you're unsure which to use, look it up. Proper grammar and spelling is an absolute MUST for social media. Please use spellcheck before you post! If you're unsure what to do, Google it. Google is your friend!
4 – Give your brand a voice
What does this mean exactly? Do you have certain "phrases" or "emojis" that you like to use when posting on your personal page?  Your business is exactly the same. Give your brand a recognizable voice that distinguishes you from your competition. And be consistent with your voice.
5 – Follow the "80/20" Rule
It's simple…80% of the time talk about other things. Things your audience enjoys. Like, the newest horror movie coming out…or some new show on Netflix that is …or maybe an awesome local event that's happening. Then, the remaining 20% talk about yourself. These can be things like: event updates, ticket sales and promos, etc.
6 – Learn from your data
All social media platforms provide valuable data that you can use to better your audiences experience on your page. For example, look at your post engagements and look at what was working and what wasn't. Do more of what worked!
7 – Build an empire!
You need to be saving pages that shares content that is relatable and engaging to your audience. Save them. Bookmark them. Then, when you're in your "80% of the time", use these resources as a source of content and ideas for your page. Go pull up a page and share that content!
8 – Stop Traffic!
No. Do not go play in the road. We're talking about your news feed on Facebook! Audiences today are quickly scrolling through their news feeds at a furious pace. You need content that will stop the scroll and get audiences paying attention to you! In fact, did you know Facebook tracks this data? When you stop scrolling and view a post Facebook will count this data. Therefore. They'll start to show you more content that gets you to stop your scrolling and hopefully engage with posts. If your content is stopping traffic…Facebook may start to help you out more organically.
9 – Jump on the pop-culture bandwagon
"Kiki…do you love me.."  Yeah. We went there. If you're not paying attention and jumping on the viral, pop-culture hits throughout the years…your competition will. This is a great way to remain present AND give your brand an entertaining, fun voice. Grab a monster. Do the "worlds hottest pepper challenge". Record it. Post it to Facebook. You'll thank us later.
 10 – Train your audience
When you have fans that are sharing and constantly engaging with you, return the favor. Like their comments. Comment back. Start a conversation. Maybe reply with a fun GIF that helps give your brand a voice. Make your audience feel loved when they engage with you. Train them to engage more. The more engagement they give you the more Facebook will show you some love.
11 – Show them how it's made!
Pull back the curtain and show them the wizard! Get it. Like. The "Wizard of Oz". People love to see how the magic, or fear, is made. Maybe you give them a cool makeup tutorial…how how to "creep out" a costume. Maybe it's a great recipe for fake blood. Audiences love a good "behind-the-scenes" look. So give it to them!
12 – Be the Halloween expert in your market
Your business needs to be the go-to Halloween expert in your market. Whether that's cluing people in to what the trending costumes are going to be…or maybe you have tickets to early screenings of a horror movie coming out. Either way. Your business needs to be to place people go for the latest in Halloween. When people in your market think "Halloween", they should think of your brand.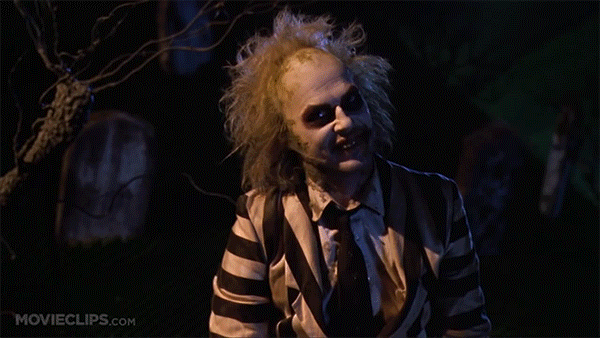 13 – GO LIVE!
It's kind of simple. If you're not utilizing Facebook LIVE…you should be! Give a character your phone and let them "go live" in your queue line. Let them answer questions and interact with the crowd…and with people on Facebook! We did this last year with Brighton Asylum (which you can check out here) when we had a character completely takeover their social media. IT WORKED!!
That's it! That's our 13 tips and tricks you can use to make your social media marketing better this year! If you'd like to chat more about social media marketing, email us today and let's get started on your 2019 advertising plans.