This past Halloween season, Fearworm worked with haunted houses and attractions in 33 U.S. markets. This included traditional indoor haunts, outdoor haunts, hayrides, mazes, farms, paintball and laser tag facilities, a theater and a trade show, or a combination of several of these features.
We also spent seven figures in marketing and adverting in all kinds of mediums; billboards, digital outdoor, radio, Pandora, Spotify, broadcast and cable TV, Facebook, Instagram, Snapchat, YouTube, mobile device ID targeting, geo-fencing, behavioral and contextual targeting, keyword targeting, retargeting, Adwords, IP targeting, direct mail, magazines, newspapers, flyers, e-mailers, PR, etc, etc.
Why are we laundry-listing all this? Because more than any year prior, we are able to compare events, budgets, creative and media spends at the same time in 33 markets. We have been able to look at results, successes, failures, and most importantly, find the trends.
Most of our markets were up. Some significantly up. Some were flat. A few were down.
Here is what we can surmise based on feedback and numbers so far…
Starting with the negative, here are a few things that were consistent with haunts that didn't hit their numbers in 2017:
• Most markets had competitors that were doing some really strong things – building great haunts, great web sites, with strong social media campaigns, and big ad campaigns (digital and traditional combined). They weren't afraid to take risks in their presentation and with their ad budgets. They are in growth mode and ready to compete, with no laurels to rest upon. It is easy to go all-in when you've got nothing to lose, which can make for a strong competitor. Established attractions need to continue to evolve, grow, and be inventive in their marketing approach. You either grow or decline – nothing really stays the same for very long.
• Just because you've been around for 15 years, that doesn't necessarily make you better. In fact, in the minds of many young people (our prime target), it just makes you old. Year after year we see heritage events suffer in part due to a lack of an evolution in what the event offers, what it promotes, its look and feel and messaging. So, evolve.
• Our agency handles creative services for many of our accounts, but not all of them. Most haunted attractions have at least someone in the organization that is a "creative," so we are often provided the creative materials. Remember, though, just because someone is creative, it does not mean they know how to create effective advertising communications. We ran into several cases where strong media campaigns didn't succeed mostly due to ineffective creative. 50% of your marketing success is in the media, 50% in the creative.
Now to the positive, and we saw lots of positive in 2017. Haunts that did well, consistently, featured the following attributes:
• It all starts with great creative, in all forms of media…a holistic view of creative that transcends a cool logo through to compelling video, your web site and social platforms, and on to print, audio and digital ads. Great creative isn't just artistic or scary, it creates a compelling reason for someone to attend your event. That doesn't mean an offer. It creates an emotional response in the audience that makes them want to learn more. Whether you scare them, excite them, or just grab their attention, great creative moves people to learn more about your event by visiting your web site, social platforms, or by starting the conversation with their friends. It also needs to be different than what people expect and to stand out from your competitors. Finally, make sure people can understand what you're saying and read the text. Don't get so caught up in being scary or making a movie that you miss the purpose of an advertisement. Enough with the scary voice over that no one can understand. Creative is 50% of the reason for success. If you can't do these things with your creative, you can only resort to Groupon and discounts as a means of convincing your audience to give you a try.

• A second factor that is almost universal of successful events are good web sites that load fast, heavy with video and great photography, quick and responsive, and easy to navigate to online sales. Simple and plain is better than complicated and flashy. It is about the user experience, brand consistency, and easily conveying information the user wants to find. It is about the user's goals, not yours.
• One of the most obvious and repeated factors in our successful events was their media mix – It was almost always a mix of digital and traditional advertising. This usually includes radio and outdoor advertising, plus a strong social media presence and strong social advertising, paid search advertising, other digital sources including online radio and video, retargeting components, and often e-mail marketing campaigns. We can't strongly recommend enough that you mix traditional, social and digital media in your plans. As much as people talk about it and like to brag about it, we almost never see digital-only plans succeed. This is for haunts as well as the 3 dozen other categories of business we work in. The same goes for traditional-only campaigns. The mix of traditional and digital marketing is what works. Traditional advertising creates mass awareness, branding and broad interest. Social expands your reach and frequency, as well as humanizing your event. It helps to make it real. Digital and search bring people to your web site or social platforms to learn more and buy a ticket. Digital alone does not build the brand and interest in your event like it can combined with longer-format, mass-reach media.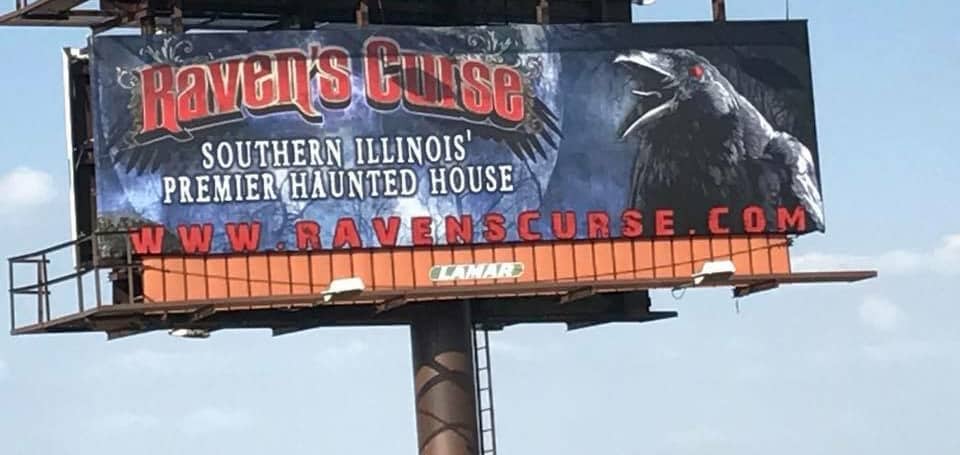 • The final trait we see in most of our successful events is that they spent enough money to be seen and to grow. Often haunts expect too much out of their ad budget. As an example, let's say a haunt is in a small market, and they've scraped together $6,000 to spend on advertising. There isn't much you can do with a small budget, so maybe they run some Facebook, video on YouTube, Google search, and a billboard. A 6k budget attraction is usually one of those haunts that is hoping to bring in 1,000 visitors. Even if they do, that's roughly 25% of their revenue in advertising. Instead of spending $6,000, if they can make it work, the budget should be raised to $20,000. Yes, a lot of money, but at $25 per person, that is only an extra 560 tickets sold to cover the added marketing costs. And if every group that attends includes 3 people, that means they only have to motivate an extra 187 people to buy their 3 tickets to cover the 14k in ads. But what if they sell an extra 1,000 tickets because of that 14k in marketing? That's an expensive 1,000 tickets, yes, but it is still an extra $11,000 net revenue, and 1,000 more people evangelizing about the amazing event. The lesson – if you can, don't be the small haunt. Small margins are too risky. Our haunts that spent the money to cut through the clutter and make an impact were much more likely to not only make back their expenses but also to thrive.
In summary, a strong multi-faceted marketing campaign usually works best. Events that strive to make their product better each year tend to get the social chatter, the good reviews, and the attendance they desire. Creative sells. And those that take risks, in their product, their creative, and even their budgets, tend to win.
We look forward to taking what we learned in 2017 and applying it to our event marketing in 2018. Check back on this site to read more soon about new marketing options and strategies we plan on implementing for the new season. If you have any questions or would like to chat about your 2018 marketing plans, contact us today.