Traditional Media
The value that traditional media provides—massive audiences—is tempered by cost and complexity. Fearworm Hauntvertising has the experience, relationships, and strategic perspective to run your campaign efficiently, keep you well informed about what we do, and help you understand why it's the right approach.
Television
Radio
Outdoor
Print
Direct Mail
Digital Media
Fearworm Hauntvertising continually adopts and innovates new digital advertising platforms, devices, and publishers into our media mix so that your brand's message is direct, concise, targeted and effective. Our multi-million dollar annual ad budget gets you the lowest rates possible, gaining the discounts we receive based on our purchasing power.
Geo-Fencing & Mobile I.D. Targeting
Identify where your best customers are located, target them at that geographic location, then after they leave by targeting mobile devices and capturing their mobile I.D.
Search PPC & Keyword Targeting
Did you know that 81% of consumers conduct a Google search before making a purchase? Fearworm Hauntvertising is the only Google Partner in the haunt industry, dedicated to getting your business in front of your customers the moment they conduct a relevant search on Google.
Premium Video
Put your video ad on to premium web placements designed to maximize your brand's awareness and authority.
Email Marketing & List Building
Owning your audience outside of the major content platforms is more important than ever before. We can assist you in building your contact lists for both email and social messenger platforms. We can also provide marketing campaigns that drive brand engagement and sales using these platforms. 
Contextual & Behavioral
Target your core consumers based on behavioral data or contextual data found within web placements.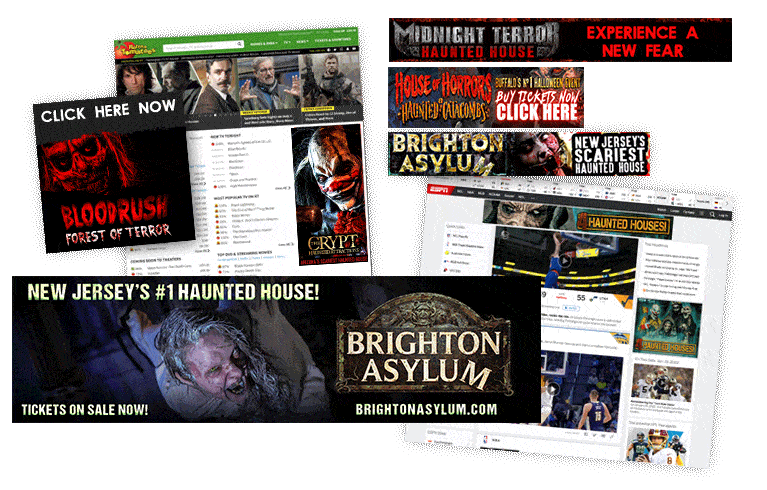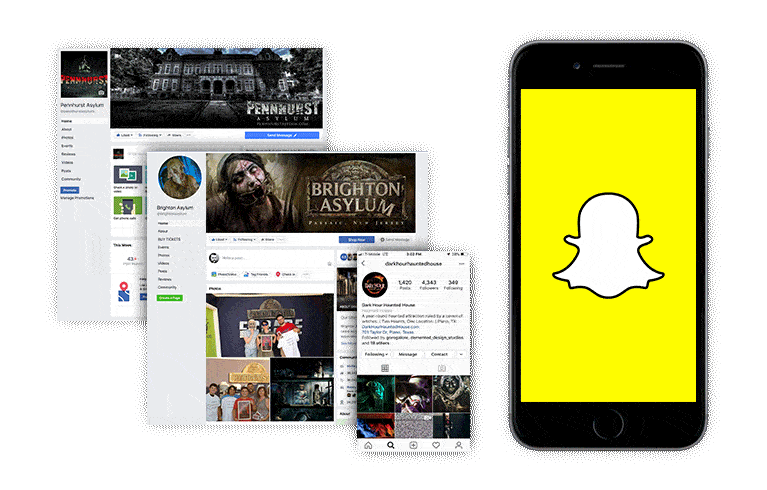 Social Media
Reach your audience when and where they are most engaged, and amplify your message to reach even more customers. Fearworm Hauntvertising can help strengthen your brand's sales funnel via a deep understanding of your customers' social behaviors, interests, and relevance. We can work with you to create amazing content and assist in keeping your social community engaged.
Facebook – Instagram
Fearworm can create an evergreen social campaign that keeps your audience engaged and optimized. We can also help curate and manage your audience (your fans) to help boost your organic reach.
Snapchat
Fearworm Hauntvertising is the only haunted attraction ad agency with direct access to the Snapchat ads platform. We can better manage, target, optimize, report and out perform Snap ad campaigns than other agencies.
Social Community Management
Let us handle the day-to-day of managing your social pages. We can answer questions, reply to comments, keep fans/customers engaged, and respond to messages.
Creative Services
Harness the power of proven creative with your next event! Fearworm Hauntvertising can be hired to conceptualize, develop, and produce your marketing materials for any type of campaign. Our team has over 20+ years of experience creating engaging content and ad creative. Remember, creative is 50% of the marketing equation and should not be overlooked!
Fearworm can handle everything for you, including:
Creative Concepts
Copywriting
Video Production
Audio Production
Graphic Design
Website & Landing Page Design
Branding
Digital Design
Print Fulfillment

Why should you choose FearWorm as your marketing and advertising agency for your haunted attraction?
FearWorm is the largest full-service advertising agency in the country focused solely on the haunted house, farms/agritourism, theme parks and attractions industry.
We know digital advertising better than anyone in the haunt industry. Our buying power gets you the latest digital advertising opportunities at one-half to one-third the cost you'll find anywhere else.
We are event and entertainment industry experts. Experienced in driving consumers to make entertainment purchases, selling tickets, putting butts in seats. We drive excitement and attendance.
Our goal is your success and growth.
We deliver more media exposure for your budget, turning exponentials on your dollars spent.
We know how to buy. We've invested in the tools to do it right.
Our buying power as an agency is strong, with over $12,000,000 in annual media expenditures in traditional as well as online advertising.
We buy the right media, keeping you from wasting money.
FearWorm is a marketing staff for your company you didn't have to hire.
We save you time.
We are the protectors of your brand.
Consolidate all your marketing activity and accounting.
Our creative is scary good.
Our services can cost you as little as nothing!
Contact us today to find out how FearWorm can bring your haunted attraction to the next level.